Push The Button - Multi-player Turn Based Game
A base template for multiplayer turn-based game on Ethereum...
git clone https://github.com/austintgriffith/scaffold-eth.git push-the-button-dev
git checkout push-the-button-dev
in a second terminal window:
in a third terminal window:
What you are seeing right now is the default "push the button template" from
minesweeper.js
👛 Open an incognito window and navigate to
http://localhost:3000
(You'll notice it has a new wallet address).
⛽️ Grab some gas for each account using the faucet: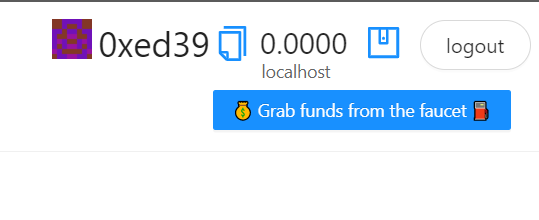 🎟 Stake the ETH from each account:
You'll see the Pool Value, Player Count and the Participants list update
Start a round by pressing Start Game, you'll see something like this 👇🏽
The game here on is pretty straightforward
The goal is to generate the largest number by sheer luck

The account whose turn it is to play is allowed to click the "Spin the Roulette wheel" button

Once he clicks the button, a random number is generated via the commit-reveal scheme

The winning number is updated if this number is the largest yet.

There is 30 second deadline before he loses his turn

If he loses his turn, anybody but him can "Skip Turn" for him

When everyone is done playing, the winner is declared and everyone can withdraw their winnings
🕵🏻‍♂️ Inspect the
Debug Contracts
tab to figure out what address is the
owner
of
YourCollectible
?
💼 Edit your deployment script
deploy.js
in
packages/hardhat/scripts
🔏 Edit your game variables and working fro,
YourContract.sol
in
packages/hardhat/contracts
📝 Edit your frontend
PushTheButton.jsx
in
packages/react-app/src/views
🛰 Ready to deploy to a testnet?
Change the

defaultNetwork

in

packages/hardhat/hardhat.config.js
🔐 Generate a deploy account with
yarn generate
👛 View your deployer address using
yarn account
(You'll need to fund this account. Hint: use an
instant wallet
to fund your account via QR code)
✏️ Edit your frontend

App.jsx

in

packages/react-app/src

to change the

targetNetwork

to wherever you deployed your contract:
You should see the correct network in the frontend:
🐟 Integrate L2 solutions for ETH
While playing a game, the ETH network often feels slow, integrate a L2 solution like MATIC (this one's already done for you, try others)
💰 Redesign the rewards system
Currently the user gets heavily penalised if he misses a turn, be more kind to your players or they might not come back 😢
⚙️ build and upload your frontend and share the url with your friends...
👩‍❤️‍👨 Share your public url with a friend and invite them for a game!!